Manufacturing in the U.S. contracted in December at the fastest pace in more than six years as factories, hobbled by sluggish global growth, cut staff at the end of 2015.
The Institute for Supply Management's index declined to 48.2, the weakest since June 2009, from 48.6 a month earlier, the Tempe, Arizona-based group's report showed Monday. Readings lower than 50 indicate contraction. The median forecast in a Bloomberg survey of 72 economists was 49.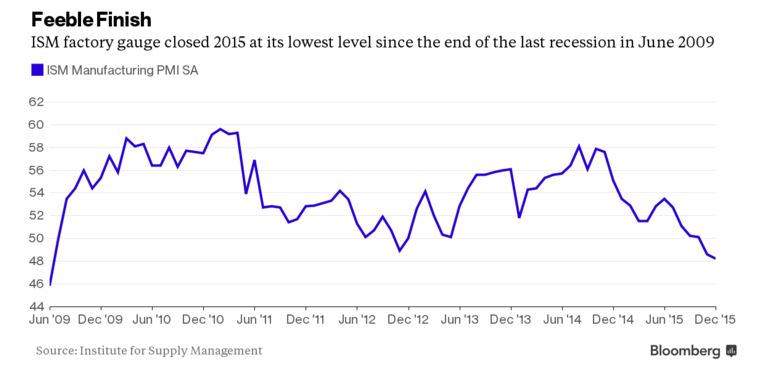 Struggling overseas demand and declines in commodity prices that are hurting investment in energy and agriculture continue to limit orders for American manufacturers. At the same time, robust domestic growth buoyed by labor-market momentum and burgeoning wage gains are supporting consumers' spending power and preventing U.S. factory activity from slowing even more.
"As the impact of the strong dollar and weak global demand continues to play out, it's no surprise that we're seeing these kinds of sub-par prints in manufacturing," said Millan Mulraine, deputy head of U.S. research and strategy at TD Securities LLC in New York, whose projection tied for the closest in the survey. "As low energy prices continue to have an impact on the energy sector, then we're likely to see a weak showing in manufacturing for a long time."
Estimates for the manufacturing index from economists in the Bloomberg survey ranged from 46.6 to 51.
Global Weakness
Factories globally ended the year on a weak note, contributing to a selloff in stocks worldwide on Monday.
Manufacturing in China contracted in December for a fifth consecutive month as the world's second-largest economy is poised to grow in 2016 at the slowest pace since 1990. In the U.K., manufacturing unexpectedly cooled in December, suggesting it made little contribution to the economy in the final quarter of 2015.
The euro area provided one bit of good news as the region's factories expanded in December at the fastest pace in 20 months. Manufacturing grew in all nations covered, including Greece, for the first time since April 2014.
Ten of the 18 U.S. industries surveyed by ISM contracted last month, led by clothing, plastics and machinery, according to the report.
While the U.S. ISM's gauge of new orders improved to 49.2 last month from 48.9 in November, it still showed bookings were falling. Order backlogs thinned to the smallest in three years.
Exports, Imports
The measure of export orders showed foreign demand surprisingly climbed in December for the first time in eight months, signaling the worst may be over. The index rose to 51 from 47.5 in November. Conversely, imports dropped at the fastest pace in more than nine years.
The slump in imports indicated factories were trying to cope with soft demand and attempting to limit inventories, Bradley Holcomb, chairman of the ISM's factory survey said in a conference call. Companies were cutting back on stockpiles of raw materials, he said.
Weakness in the ISM's factory employment index was behind the drop in the overall measure. The hiring gauge fell to 48.1 in December from 51.3 the prior month, Monday's report showed. The production gauge improved to 49.8 from 49.2 in November.
A jobs report due Friday from the Labor Department is projected to show employment made further strides in December, with hiring building on gains in 2014 that made it the best year since 1999. Economists are predicting payrolls climbed by about 200,000 last month after a 211,000 increase in November.
Inventory Cutbacks
The ISM report also showed gauges of factory inventories contracted at a slower pace in December, rising to 43.5 from 43 in November. Manufacturers also said their customers still held too much in stockpiles.
An index of prices paid dropped to 33.5, the lowest since April 2009, from 35.5. The prices measure has been in contraction since October 2014.
The drop in joblessness over the past year is projected to lead to bigger wage gains, which will probably spur a pickup in consumer spending and inflation. Unemployment held at a more than seven-year low of 5 percent in November.
The Federal Reserve last month increased the benchmark interest rate for the first time since 2006, indicating confidence that the economy is strong enough to withstand higher borrowing costs and that price growth is set to accelerate.
by Michelle Jamrisko www.bloomberg.com
Updated on