The Finest Metalworking Machinery From Around the World
Welcome to C Marshall Fabrication Machinery, Inc. Our mission is to provide the finest metalworking machinery from around the world, while at the same time providing exceptional service and support. Selling metal fabricating equipment both at a national and international level we have built up a reputation of quality service, customer care, and outstanding expertise in plate rolls and angle rolls, and special machinery to help you with your hydraulic plate bending needs.Our staff has over 30 years of experience in the Metal Fabrication Industry. Please contact us today for more information!
Our goal is to help our customers find the right metal fabrication equipment that they need to be as competitive and profitable as possible. We also will do it for a great price!. If you can't find what you're looking for on our Website, please do not hesitate to contact us.
Our Plate Roll, Angle Roll, Hydraulic Shear and Press Brakes are the best in Quality, Reliability, Dependability, Durability and Precision making your job easier and safer. Backed by personal customer service and hands-on professionalism, you won't find a better place to buy than C Marshall Fabrication Machinery, Inc.
Click HERE for more information
To read about our "flagship" – Italian made MG plate roll line, please click HERE.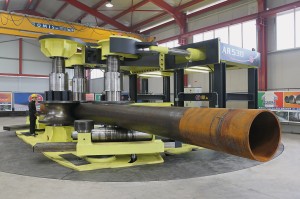 AR 530 – The Largest Angle Roll Ever Built
AR 530 is the new section bending machine manufactured by MG SRL, Italy that completes the already large range of models of plate and section bending rolls the company can take pride in its 54 years of life. The AR530 is the biggest section bending machine ever built; it is a giant 29.5' x 29.5', almost 26' high, 340 tons, 220 HP with 1900 ton torque. The AR530 can bend standard and special profiles; T's and channels, beams, round and sq.