Sector Creating More Jobs Than It's Cutting; 'Shining Star'
The economists' projections for this year—calling for a gain of about 2.5%, or 330,000 manufacturing jobs—won't come close to making up for the nearly six million lost since 1997. But manufacturing should be at least a modest contributor to total U.S. employment in the next couple of years, these economists say.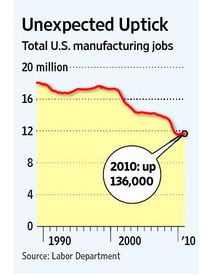 After a steep slump during the recession, manufacturing is "the shining star of this recovery," says Thomas Runiewicz, an economist at IHS. He expects total U.S. manufacturing jobs this year to rise to about 12 million. Currently, manufacturing jobs account for about 9% of all U.S. nonfarm jobs; the average pay for those jobs is roughly $22 an hour, or nearly twice the average for service jobs, according to government data.
Despite the upbeat forecasts, job growth may remain modest because many companies are finding ways to increase production through greater efficiency and automation, without adding many workers. In the third quarter, U.S. manufacturing productivity increased as output rose 7.1% from a year earlier and hours worked grew just 3%. Conrad Winkler, a vice president at the consulting firm Booz & Co. who focuses on manufacturing, says manufacturers are being very cautious in their hiring, partly to avoid the risk of having to lay off people later on.
Manufacturing is going to be a significant source of job growth over the next decade," says Mark Zandi, chief economist at Moody's Analytics. He says U.S. manufacturers that survived the brutal 2008-09 recession are now very competitive, with much lower labor costs and debt burdens, and so can afford to expand. While they will keep building factories overseas to address demand in emerging markets, they also will invest in U.S. plants, Mr. Zandi says. He expects manufacturing job growth to average about 2% a year through 2015.
The job growth is expected as companies replace aging equipment, take advantage of government incentives, seek energy savings and rediscover that it makes sense to produce some products, such as ovens and construction machinery, at home rather than shipping them long distances. A new tax break, approved by Congress in December, is expected to further stimulate investment by letting companies deduct from taxable income 100% of certain types of investments in 2011.
By James R. Hagerty
Wall Street Journal – Business 1/19/2011
Write to James R. Hagerty at bob.hagerty@wsj.com
Click HERE to read the complete article
---