Save time and money.
Steel used to reinforce concrete is known as rebar. It is usually made from carbon steel and the ridges on its surface are there to reinforce the anchoring into the concrete as well as help balancing the load between concrete and steel. Together, rebar and concrete, prevent the concrete from collapsing. A devastating example of incorrect usage of rebar is the 8.1 magnitude earthquake that struck Mexico City in 1985 leaving the capital in crumbles and killing thousands of people; most of the collapsed buildings' rebar was either entirely too frail and thin to support the building—if the building had rebar at all.
Rebar is measured in fractions of 1/8 increments; it is available in different grades and ranges from #3 rebar up to #18 rebar. The grade designation is equal to the minimum yield strength of the bar. For example grade 40 rebar has minimum yield strength of 40 ksi, grade 60 has a minimum of 60 ksi, and grade 75 has a minimum of 75 ksi. The most common rebar used in concrete construction is grade 60; grade 75 is used in bridges and other heavy-duty construction and grade 40 can be found in low-stress concrete constructions such as sidewalks.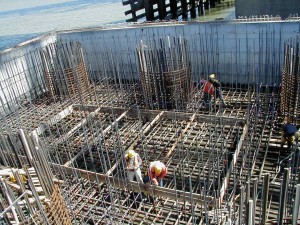 Picture to left: Building of Zampa-Memorial-Suspension-Bridge in California
Rebar comes most commonly in 20′  long sticks, thus there is a need for machines to cut and form them so they fit the purpose they will be used for. Concrete contractors do not have many choices when they have to cut or bend rebar, no matter the thickness of the bar:
Both options above will get the job done, however, as the critical thing in today's competitive world is to get the job done fast – save time – and to get it done as cost effectively as possible – save money – it is recommendable to own your machines instead of outsourcing the work. For large, detailed jobs it makes more sense to order the specific rebar from a fabricator; however for smaller jobs, owning a cutter and/or bender gets the job done faster.
Using a rebar cutting/bending machine instead of a manual tool, in addition to making the work itself much easier, you will be able to cut 3 to 4 times more rebar which of course affects productivity positively. Another thing that speaks for the rebar/cutting machine is that they make it possible to make numerous identical pieces.
The entry-level price for rebar cutters and benders is not high. They run on electric power, either from wall sockets or generators. Also, the maintenance is easy, the blades last a long time and the machines are reliable and relatively easily to repair if needed.
As each job is unique it is very important to work with a good supplier in order to ensure that correct equipment is selected.
From the desk of Cary Marshall
Pictures below: using rebar in landscaping. Photos taken at the Getty Museum Gardens, Los Angeles, CA