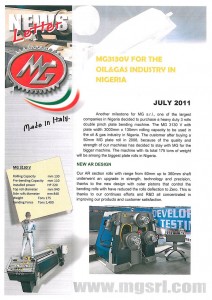 MG3130V for the Oil & Gas Industry in Nigeria
Another milestone for MG s.r.l. as one of the largest companies in Nigeria decided to purchase a heavy duty 3 rolls double pinch plate bending machine. The MG 3130 V with plate width of 10′  x 5-5/16″ rolling capacity is to be used in the oil & gas industry in Nigeria.
Rolling capacity: 5-5/16″
Pre-bending capacity: 4-5/16″
Installed power: 220 HP
Top roll diameter: 39″
Side rolls diameter: 33.1″
Weight: 175 tons
Bending force: 2400 tons
Please click HERE for the full Newsletter.