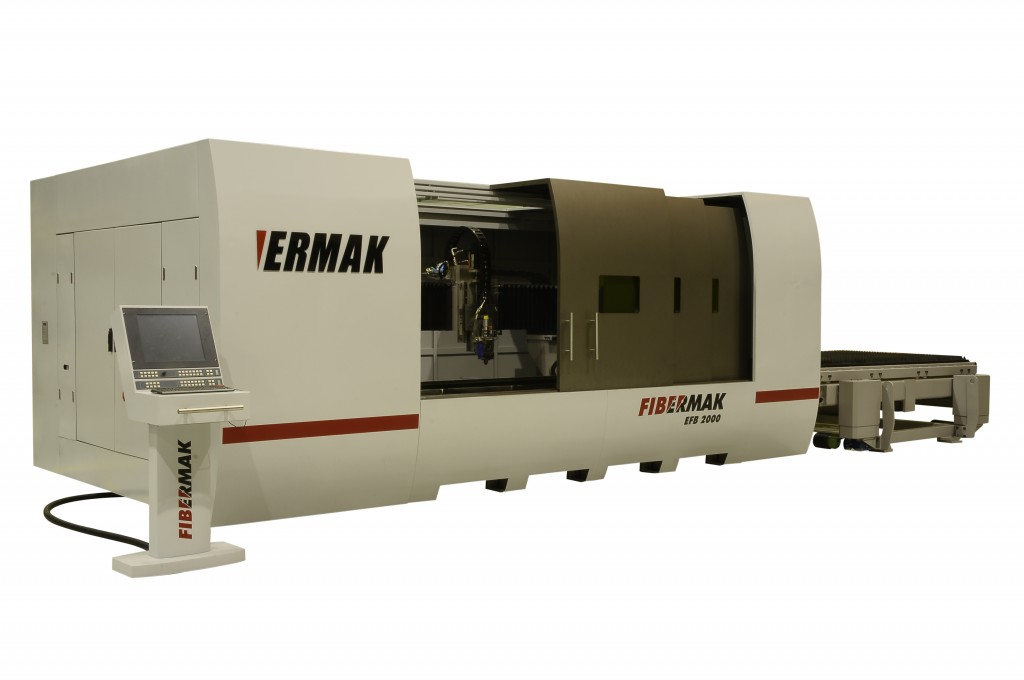 Strong design,
Ultra low energy consumption,
Fast cutting capacity and
Almost zero maintenance cost.
1/2″ mild steel, 1/4″ stainless steel cutting capacity.
FIBERMAK transmits the laser beam onto the sheet metal by fiber cables and its cutting quality with high beam density is perfect on thin sheets compared to other alternatives. Fiber optic laser cutting technology proves high quality cuttings at very fast speeds. The energy consumption is 70% less compared to CO2 lasers. You'll also benefit from easy cutting of reflecting materials such as aluminum, copper, brass etc. via low wavelength depending to its working principle.
WHY FIBERMAK?
60% – 100% faster compared to other laser cutting machines. Axes equipped with Bosch – Rexroth linear motors and drivers reach to 472 IPM speed and accelerations are 2 G on Y, 1,5 G on X axes.
Cuts thin materials 3 times faster compared to CO2 lasers and energy consumption is simultaneously lower.
70% energy savings by fiber optic laser technology is plant friendly.
Because of diode technology there is no need to laser-mix gas used at CO2 laser cutting machines.
Because laser transmitting is done by fiber cable there is no need for optical components such as beam path, folding mirror and quartz tube etc.
You can make production 24 hours a day
Part cost savings up to 50%.
You can prevent from production faults by automation at your premises.
You save from molds and apparatuses.
Possible to cut reflecting materials such as aluminum, copper, brass etc. precisely and by smooth surface quality.
FIBERMAK has strong frame, equipped with worldwide well known, long life, quality components and designed to work accurately and continuously even at hard conditions.
ROFIN RESONATOR
ROFIN FL Series high brightness lasers.
The emitted wavelength in the range of 1 μm achieves high absorption in many materials.
FL Series Laser allows all common solid-state laser applications to be performed.
With the multi-mode version of the FL laser, fiber optics of 50 to 600 μm can be used.
The single-mode version produces exceptionally good beam quality, typically in the range of ≤ 0.02″x mrad.
The excellent beam quality also allows the efficient use of "dynamic beam" scanner systems for high-speed positioning as well as the fast and precise application of small geometries at work pieces. This reduces cycle times and increases productivity.
Non-productive times are reduced and the utilization of the laser is increased.
PRECITEC HP SSL Cutting Head
The HP SSL cutting head is ideal for use in flat bed systems and pipe-cutting machines with fiber-coupled lasers. Modeled on the design of the successful and reliable HP series, this head has integrated distance sensor with extremely durable stability and a monitored protective window cartridge. Pre-adjustable cartridges enable ultra-fast replacement when cutting different work piece thicknesses.
Efficient
high cutting speeds with integrated distance sensor
short conversion times with fast changing of focal lengths
optimized cutting gas flow
Flexible
cutting of different material thicknesses
2D cutting
Focal length tailored to your application
All media connections located in upper part
User Friendly & Safe
simple and safe cartridge replacement system with TCP retention
fast change of protective glass
motorized focal position adjustment (optional)
temperature monitoring of the sensor insert
cartridge monitoring for presence
magnetic breakaway coupling
Power Automation Controller
Power Automation CNC control with integrated inputs and outputs
the open, browser-based human machine interface PA HMI
the PA 8000 LW CNC
the PA dongle which includes all needed software functions for fiber cutting
the I/O module PAMIO which provides 4 analog in- and outputs
CAD CAM
Lantek Expert
FIBERMAK uses Lantek Expert Cut Cad/Cam Software by its own post-processor. Its many features such as automatic nesting and machining, calculation of time/cost, micro-joint, common cut etc. makes cutting easier.
Easy Programming Features
Cutting Technology Charts according to material types and thicknesses
Automatic nesting + processing
Time and cost calculation
CAD module
Micro-joint
Common cutting
Film burning
Automatic I/O
TECHNICAL SPECIFICATIONS (Click link below)