I just finished reading an article about the Fabtech Show in Atlanta this November. It calls the show a "Real Show-Stopper" and even if I still have weeks to go, maybe months, before the leads I collected from this show will start either generating business or turning out to be "bad leads" I have to agree that the Atlanta show was in many ways much better than the one in Chicago last year.
One reason for Fabtech Atlan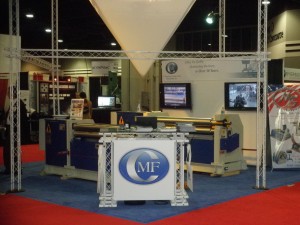 ta being a good show was of course that it attracted more exhibitors as well as visitors than the Chicago one but it was not just that; it was the overall feeling of everyone being happier with the quality of leads, the buzz around the exhibit booths and the feeling of maybe "the worst being behind us"  – all in all most everyone had a brighter outlook on the future and hopes on that the busy Fabtech 2010 was just another indication on that the manufacturing business is on a path of recovery.
CMF took a bold approach at this year's exhibit and showed up in a new, professionally designed booth in a great location attracting visitors to stop by, ask questions and request call backs and information on the two asymmetrical plate bending machines (CYL-ST 170-15/5 and CYL-ST 170-15/7) on the floor and others (plate rolls, shears, brakes, ironworkers and rebar benders and cutters) offered by CMF.
The show is now over but is still a very active part of my work today; however, I am already looking into all the planning that is going to start shortly in order to be ready for the next year's show in Chicago, IL on November 13-16.
Much work still remains to be done before I can actually confirm whether the show really was as good as I felt it was. It will be busy times until the end of this year and hopefully even busier starting the new 2011.
As the Holiday Season is approaching I wish my customers, vendors, dealers and all the people active in the metal fabrication world a Very Happy Thanksgiving.
Cary Marshall
President
Please click HERE for additional pictures from the show.