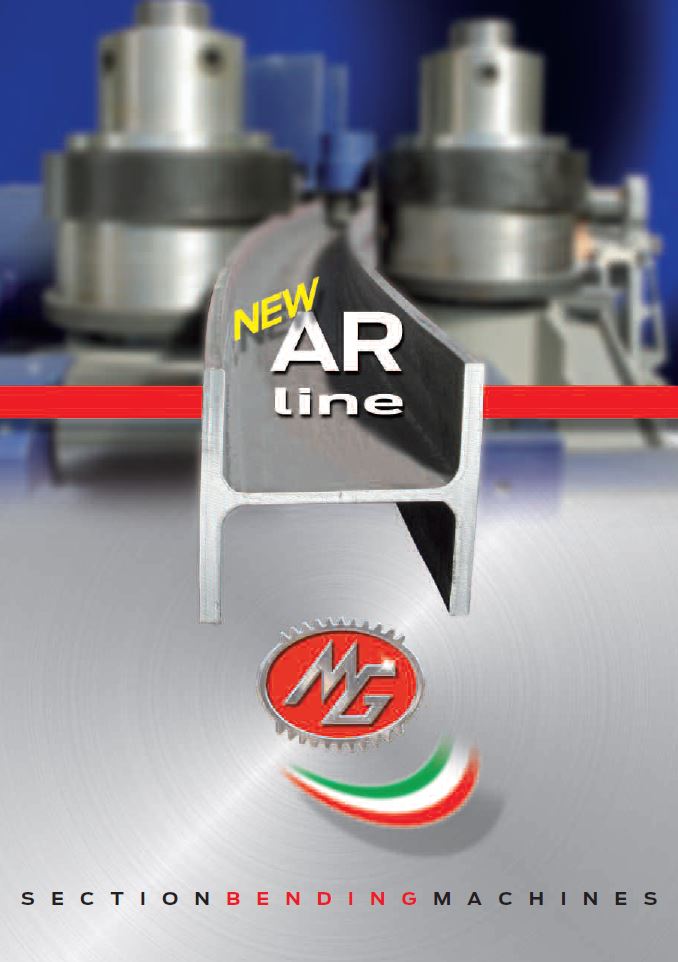 Using the same award winning technology incorporated in their world famous 3 & 4 roll plate bending machines, MG team has revolutionized the section & angle rolling market. Using the same characteristics and components as in their plate bending machines MG is able to offer stronger machines with quality and performance higher than other manufacturers and with a very competitive price. Heavy steel fabricated frames machined on CNC machining centers to ensure extreme accuracy.
* Three drive rolls each with an independent hydraulic planetary motor.
* Eliminating secondary reduction gearing, connecting arms, chains, synchronization devices and clutches.
* Two forming rolls for reduction of flat ends. * Double roll spherical bearing (SKF or equal) for maximum rigidity.
* Hydraulic motors attached directly to each planetary drive, eliminating loss of torque.
* Tooling is modular and can be configured to roll most standard sections
* For rolling pipe and tube or beams and channels the hard way, special tooling can be ordered.
The section bending roll/angle roll has three dragging rolls with hydraulic pinching granting a steady and constant leading of the material. It is easy to use and precise in its performance and with its particular geometry, it's definitely unique. All the parts are selected among the best brands in the world to give precision, versatility in use and a long lasting life.
TECHNICAL AND STRUCTURAL FEATURES
TRIDIMENSIONAL MOVEMENT HYDRAULIC SIDE GUIDES with the following movements: up/down, back and forward, they rotate to adapt to the different bending radii. (Optional on AR60 and AR80 angle rolls.)
PLANETARY MOVEMENTS: Bending rolls' planetary movement reduces frictions at the lowest, common on traditional machines having creeping oblique or horizontal guides.
PERMANENT LUBRICATION: All components on all our section bending rolls as well as plate rolls are pre-lubricated and sealed up thanks to an exclusive system that grants lubrication for the life time of the machine.
DIRECT DRIVE: Replacement of all low efficiency components such as gears, brasses, mechanical gear boxes, transmissions belts, creeping guides, etc., with high efficiency epicycloidal gear boxes DIRECTLY COUPLED on the rolls, bearings and hydraulic motors, that concentrate all the machine strength on the profile (positive strength), provides energy savings. This system follows the "International High Efficiency and Anti-Pollution" Rules.
Click image above for brochure.