Bloomberg News (2/28, Kowalski) reported that in the US, manufacturing continues to lead the recovery – and blisteringly so — with the Institute for Supply Management-Chicago index rising to 71.2 for February, "the highest level since July 1988, from 68.8 in January" and exceeding "every estimate of economists surveyed by Bloomberg News." In fact, the index had been expected to fall. At the same time, US households spent less on purchases, "a sign the expansion will become more dependent on gains in factory production." In addition, "manufacturers like Deere & Co. are raising profit forecasts as business investment in new equipment accelerates and exports climb as the global economy recovers." Moreover, the Labor Department said factory payrolls were increased "by 49,000 workers in January, the most since August 1998." The Chicago index is perhaps the most closely watched measure, but "the Fed Bank of New York on Feb. 15 said manufacturing expanded in that region this month."
Click image below for a video on "Pace of Recovery to Quicken: Bernanke" by CNBC where Fed Chairman Ben Bernanke tells the Senate Banking Committee that the nation's GDP growth has now matched the pre-crisis peak, reports CNBC's Hampton Pearson.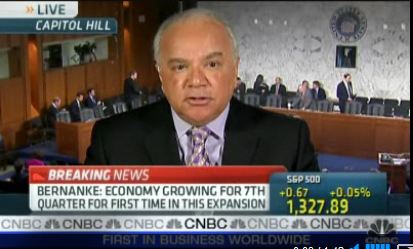 Reuters (3/1, Mutikani) also reports the growth in manufacturing activity, also noting that the Midwestern benchmark reached the highest levels in more than 22 years. Reuters says manufacturing activity could help the US ride out fluctuations in oil prices. RBS economist Omair Sharif said, "The data shows that the manufacturing side continues to be extremely solid," against consumer spending, which likely will be "only a modest driver of growth this year." Swiss Re's Kurt Karl said, "The big surprise of this recovery is how strong and how robust the manufacturing sector has been." Reuters also notes that Fed officials are counseling against much tinkering with economic support yet.
Payroll Tax Cut Fails To Spur Consumer Spending. The AP (3/1, Crutsinger, Pitt) reports a Social Security tax cut "that economists say should help the economy this year is off to a slow start. Consumers increased their spending last month at the weakest pace since June, even with the extra money in their paychecks." Analysts said "some people may be using the additional money to pay down holiday credit card bills or higher gas prices," and "harsh weather may have deterred some people from shopping in January." Consumers "increased spending by only 0.2 percent in January, the smallest gain since June, the Commerce Department said Monday. At the same time, their incomes rose 1 percent – the biggest jump in nearly two years and a reflection of the tax cut." The increased income "is part of an additional $110 billion that economists say workers will receive this year from the cut in their Social Security taxes."
The Washington Post (3/1, Mui) reports "rising food and energy prices ate away at the extra money workers received in January from a reduction in the payroll tax, according to government data released Monday, stalling the momentum in consumer spending." The tax cut "saved workers roughly $66.3 billion and helped boost incomes by one percent in January compared with the previous month, the government data shows. But much of the increase went toward paying for more expensive food and fuel, which together account for about one-fifth of consumer spending, the Commerce Department report said."
AFP (3/1, Smith) reports "adjusted for inflation, consumer spending — which accounts for about two-thirds of US economic output — actually fell for the first time in a year, by 0.1 percent from the previous year." Bloomberg News (3/1, Chandra) reports economists "at Morgan Stanley and Deutsche Bank Securities Inc. cut forecasts as the data showed households may have used some of the extra cash from the payroll tax cuts to boost savings."
SME Daily Executive Briefing
---