We are very excited about exhibiting at Fabtech 2011 in Chicago, November 14-17, 2011 and hope that you will stop by at our booth #2763 to learn more about us and our products.
Come talk to our knowledgeable and friendly sales personnel. Ask questions. Pick up brochures. Get ideas.
This year we have a MH 4-roll plate bending machine on the floor. Come and take a look.
All our plate rolls are built in Fossano, Italy, by MG s.r.l. MG gives customers real advantages on every large and small industrial application of boilers and heat exchangers; tanks and containers for food industry, agriculture and buildings; tank-trucks for oils and foods, road and heavy transportation; turbines and reactors; off-shore and land windmill towers; light and heavy steel structural works, excavator buckets and any other application in the field of automotive, naval, railway and aero-spatial. Every one of these sectors is carefully studied by our staff in order to give our clients the best machine, system or service.
Our machines are built to follow each customer's specific bending requirements, expressly studied and projected for the task the customer needs to perform. We do not mass-produce and we don't send out quotations just to get rid of stock.  We want to know what the customer's activity is, what he produces, and listen to what he would like to have in the future and then offer the best machine that can fit his demands.
In addition to showing you the plate roll we would like to inform you about the rest of our extensive product line from brakes, shears and rebar equipment to laser cutting and plasma burning machines.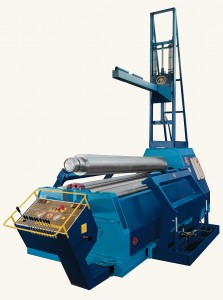 Double Pinch Hydraulic 4 Roll Plate Bending Machine Model MH314C. Click below for information on the roll.
Click HERE for information on the MH314C
---