(Click to enlarge image)
Column-Boom Systems are manufactured to ensure ergonomics during weld jointing processes, reaching to hard-to access areas while welding large pieces and to perform welding with minimal error.
Column-Boom systems approach to the most suitable area on the piece for performing the required welding process under control of the operator and welding operation is performed with the command sent to the automatic unit on the boom.
Main Controller Panel:
This panel is design according to client demands. Column-Boom, rotator, positioner and welding machine is controlled by using the Main Controller Panel.
Standard Features
• 359° Rotatable column (manual)
• Mobile cabled controller
• Lighting
• V type slide system for spaceless working
• Adjustable linear Boom speed
• Boom speed digital indicator
• Setting for Boom speed (fast/slow)
• Mechanical locking system for Boom fall
• Counter weight system for Boom (Elevator)
• Limit switch on all movements
• Welding power unit's table (above the column)
• Motors with fan coolers and break
• Cable channels on Column – Boom
• Fixed System
• Optional Features
• Central control panel
• Laser track following system
• Camera tracking system
• Synchronous working system with Rotators (with central control panel)
• Walk path (rail system)
• Operator's seat (with ladder option)
• Dust drying system (for SAW)
• 359 ° Rotatable column (with motor)
• Torch holder
• Mobile console
• Automation system
• Isolation rated for facility's condition
• Manual controlled torch orientating system
• Mechanical track following system
• Controller stick (Joystick) for torch orientation system
• Oscillator (for Mig only)
• Heavy welding wire hanging group (at back of boom)
• Ladder
• Two head welding system
• Rail system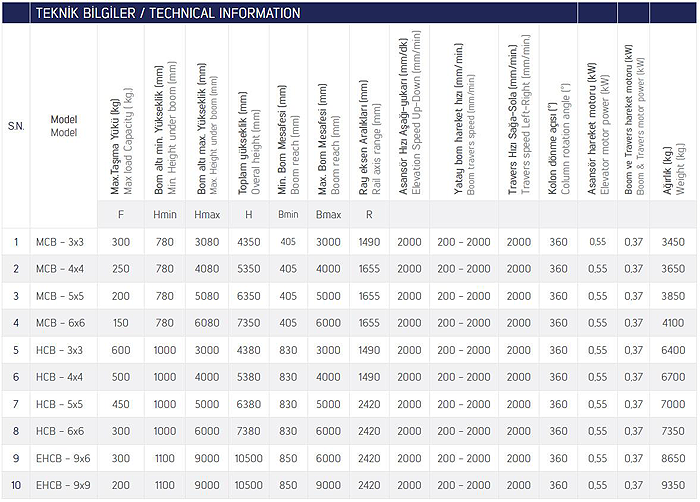 While Column-Boom systems can perform welding independently for any part, it may also perform circular or lengthwise welding using rotator or positioner. Welding types that can be performed by the system are SUBMERGED, MIG, MAG, TIG. Also, Column-Boom systems can be fixed or with automatic travel on rail.
Column-Boom systems enables improvement of quality, reduction of manufacturing time and operator fatigue, precision and continuous welding quantity that can be realized by an operator.
Bendmak Makine includes 3×3 to 9×9 Column-Boom systems in its standard lists. However, custom production can be realized up to 10 x 10 meters.