(Click image to enlarge)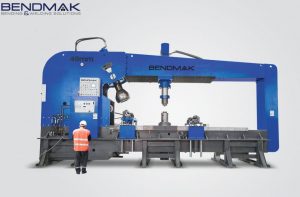 Fully hydraulic system working BFM model flanging machine is using tank and boiler bottoms construction. Machine makes flanging at the end of the circle plate then get the required radiuses.
The machine frame built of high strength materials by electro welding and stress relieved prior to the machining in order to meet tight manufacturing tolerances for sensitive flanging process.
• Upper and lower head holder slides on the main body structure for stiffness and lower vibration during flanging.
• Both upper and lower head holders powered by hydraulic motors for vertical movement and clamps the head by  hydraulic cylinders.
• Knuckle roll is powered by radial piston by hydraulic motors for high speed of rotation and high torque.
• Flanging roll is powered by three cylinders for vertical and horizontal direction and slides between two main bodies.
• Both rolls are made of special chemical for long time corrosion resistance
• Centralized greasing system.
• Lower supporting rolls are powered by hydraulic cylinders to support the head during flanging.
• Hydraulic system consist of radial piston pump, oil tank level gauge, filter with impurity signal and worldwide known brands.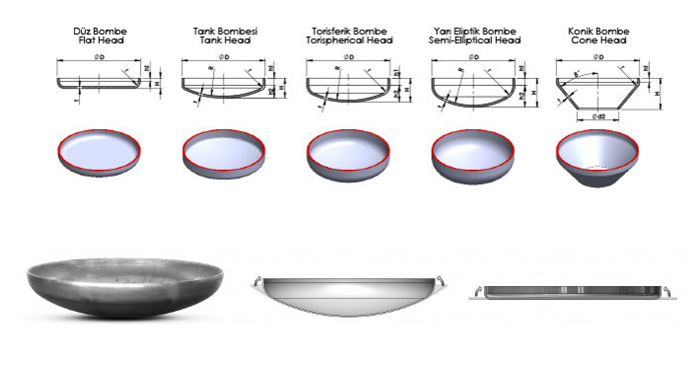 Each model of machine is available in different dimensions according to upon request.
Data based upon steel 240 N/mm2 yield point. / All specifications are subject to change without notice.