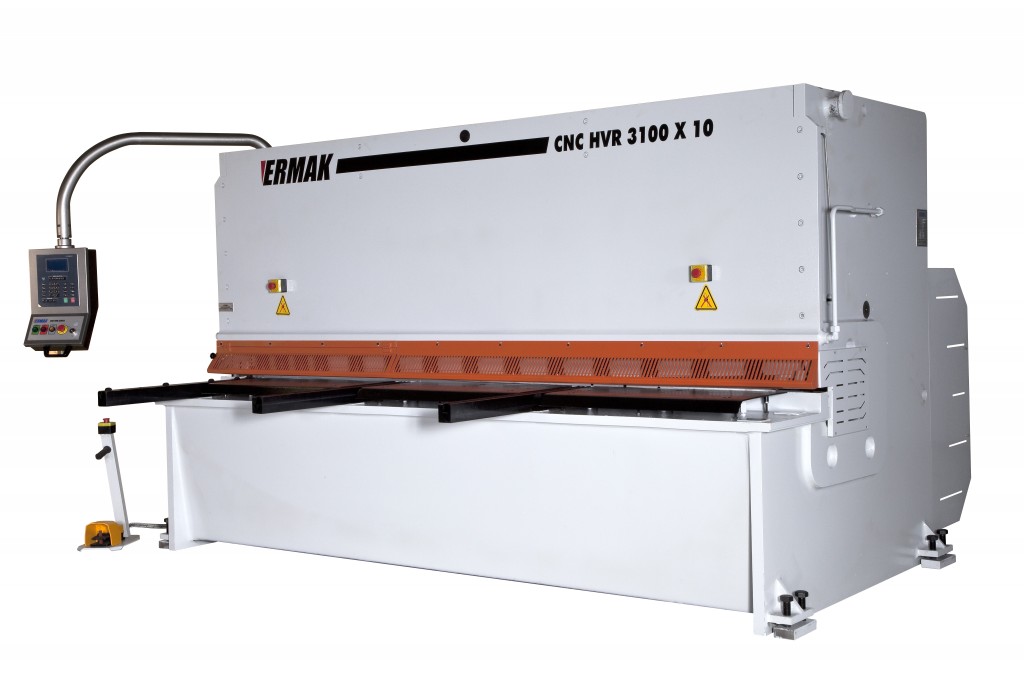 GENERAL SPECIFICATIONS
ERMAK CNC-HVR angle adjustable hydraulic guillotine shears are strong and easy to use machines which are able to cut any type of sheet with the best quality and speed. Machines can be programmed easily with the use of dialog programs and CYBELEC control units. When the type, thickness and length of the sheet is entered to the controller, the machine calculates and adjusts blade gap adjustment, back gauge distance, cutting length and cutting angle automatically. Cutting angle adjustment is done automatically according to sheet thickness, so that the shortest stroke is used during the cutting of thin sheets.
DAC-360 CONTROLLER (Standard)
DAC-36 is a compact and complete control for shearing machines. In addition to the X-axis position, it offers automatic control of cutting angle, stroke length and gap. The numerical programming is user-friendly and guides the operator through the programming possibilities.
Panel based housing
Bright LCD screen
Back gauge control
Retract function
Cutting angle function
Cutting gap control
Stroke length limitation
Force control
Manual movement of axis
CYBELEC DNC 60G CONTROLLER
Automatic calculation blade gap, cutting angle and stroke depth according to programmed material and thickness,
5 pre-programmed material types,
Stroke depth management by frequency distortion or potentiometer,
Automatic back gauge re-adjustment according to the blade gap,
Sequence repeat, sub-programs and chain-programming,
Multi-processor designed using ASIC and SMD. This provides full integration and high safety,
Keyboard with ergonomic buttons,
3" x 5.5" black-white LCD graphic screen (visible area). 240 x 128 pixel automatic contrast adjustment,
Internal SRAM memory,
Flash memory, updating with R232 as an optional. 2 x RS232 port (optional),
High-speed (250 KHz) N2X axis with PID regulator and programmable resolution,
Inch/mm, tons/tons conversion,
16 input (24 or 32 optional)
16 output (24 or 32 optional)
Easy cut page,
Flying cut,
On CNCHVR, blade gap adjustment, stroke adjustment and back gauge position is automatically adjusted from the DNC controller unit according to the sheet thickness (standard)
COLLAPSIBLE FRONT COVER
For safety reasons, front side of the hold-downs is closed with a protection cover; however, upon request 39". part of the left side of this cover can be opened. With the help of this system, angled or drawn line cutting can be done easily and controllable.
LASER CUTTING LINE
With the help of laser cutting line, angled or drawn line cutting can be done easily and controllable (optional).
PNEUMATIC SYSTEM
Pneumatic sheet support system that provides the user an easy method of working is and optional function to protect the sheets from hanging down and improving cutting precision during cutting of long and thin sheets.
THROAT
With the help of 13.8" throat depth on standard models, it is possible to cut longer sheets than the standard cutting length, thus avoiding extra workmanship costs due to the longer sheets. Throat depth can be designed up to 20" upon request. STANDARD EQUIPMENT
Mono block, welded steel frame rigid to deflection moment and high tensile with ST44 A1 material,
Fast and powerful back gauge with 39" distance, moving ball-screwed shafts with automatic swing away feature,
Avoiding sheet sliding during cutting action powerful hold-downs with maximum performance,
Roller bearings on the table to help placing sheets to machine easily,
CYBELEC DNC 61 G cut controller,
Honed hydraulic cylinders and chrome coated pistons,
High-quality top and bottom blades;
Bottom: 4
Top: 2 cutting sides
Hydraulically operated blade gap and angle adjusting system with CNC control,
Bosch – Rexroth hydraulic system,
High pressurized silent ATOS pump,
Front support arms with ruler and flip-stop,
Foot pedal available for single or continuous cutting,
Cutting line illumination and shadow line,
20" throat depth,
Automatic serial cutting, flying cut,
CNC controlled automatic angle adjustment, stroke adjustment, and hydraulic blade gap adjustment.
OPTIONAL EQUIPMENT
Pneumatic sheet support,
Angular front gauge,
500 mm throat depth,
Oil coolant,
Laser cutting line,
Finger protective light curtain (category 4),
Longer front arms or squaring arm,
Automatic stacking system,
Dynamic back gauge with servo motors,
X1, X2 back gauge for the angular cutting,
Stainless steel cutter.
TECHNICAL SPECIFICATIONS (click link below)
CNC-HVR Hydraulic Variable Rake Guillotine Shear Specifications
...